Metal Poles Look Great In Your Home
Metal poles come in various diameters and lengths
Can be used for a variety of Curtain Headings.
You Can Choose From Many Different Finial Designs And Colors.
If you're looking for a new type of pole, think about the design, modern or traditional.
With so much choice we have tried to help by describing the diameter differences and their uses.
Up to 19mm Diameter

19mm curtain poles tend to be for lightweight curtains , or maybe voilles
They tend to have smaller discreet brackets
Many of the pole sets tend to be extendable, making measuring and fitting easy
Suit Bedrooms and small rooms that may need window dressing.
Cottage and Barns tend to have small diameter Black poles such as Artisans Wrought Iron Curtain Poles.
Available in colours to suit most decors :Chrome, Stainless Steel, Antique Brass and more.
20mm to 30mm Diameter

As 28mm is possibly the most common size of metal pole, we have seen this dominate the market and be most customers 'GO TO' diameter.
Some manufacturers such as Jones have chosen to use the 28mm diameter, but the thickness of the actual pole is thicker, giving extra strength.
With a large market, many manufacturers have lots of accessories to help make double poles, bay windows curtain poles and most recently long lengths in one piece.
The ends of the curtain poles (Finials), many manufacturers select the Ball Finial design as the starting point, but many have fancy and cut glass finials.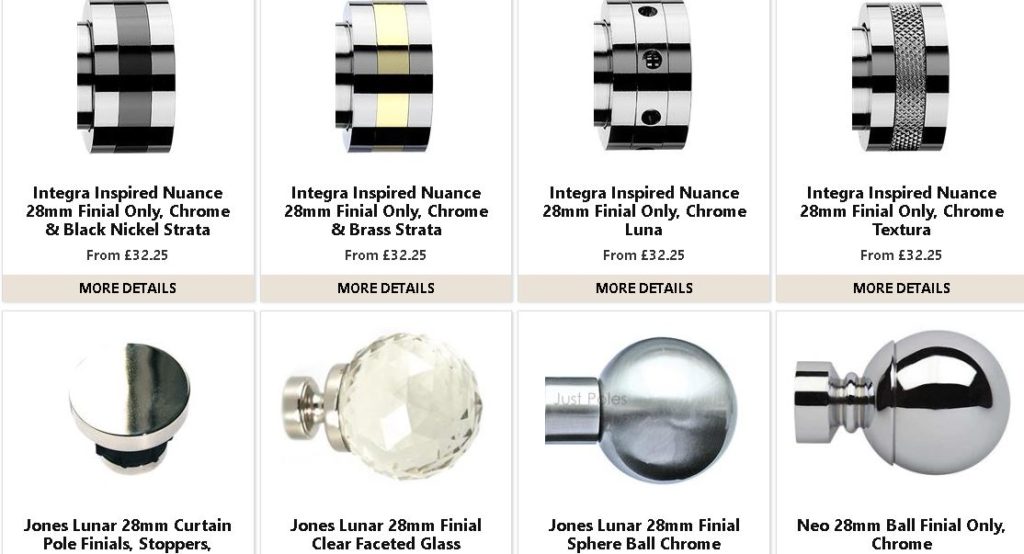 With 28mm, the choice of brackets can have many customers bewildered. Many cheaper poles come with a simple bracket that will do the job, but as the quality of the range increases so does the bracket design.
We do prefer the brackets with concealed screws, for two reasons, one the screws are hidden, secondly and most important, these brackets normally allow 3 fixing points.

Metal Poles in the 28mm diameter also have a large number of accessories such as Passing Rings and brackets, these are used in Bay Window or long length pole sets ups.
Metal Poles 31mm to 39mm Diameter

The increase in pole diameter, increases the strength of the poles, and will also allows the poles to hold larger finials with more show.
With the larger diameters we see a new and fresh approach from manufactures. Lots of the poles in this sector will be Made To Order, or simply Cut to Size.
With the larger diameters we do see the lengths of poles increasing to 600cm.
The longer poles are 2 x 300cm and an internal Joiner.
Will look in place in Victorian and Georgian properties with high ceilings.
40mm and Above

This is the serious end of the metal pole ranges.
Above 40mm the metal pole becomes larger than life, and will need to be fitted in a large room.
like its smaller cousins the above 30mm, the 40mmand above diameter allows for poles upto 600cm
The larger poles tend to be more Classic in brackets, and the traditional styles keep popping up.
How do i choose
Using the information above may not be the answer, if you need help and support please contact us on (0191) 5849002.
We have a number of trained staff that can help and advice on the correct products
To read more about poles…Click Here….