Laura Ashley 40mm Handcrafted Curtain Poles
Laura Ashley 40mm Handcrafted Wooden Curtain Poles in the their own paints
In the words of Laura Ashley "No two houses in the world are the same, because everyone likes to put things together in their own way"
Inspired by the eye catching floral prints, they offer a stylish yet timeless look.
There is a choice of six elegant finials: Rose, Artichoke, Scroll, Ball, Woven Rope and End Cap.
These finials ensure a classic or contemporary look can be achieved, all over 70 of their paint colours.
Additional items such as holdbacks and draw rods are available to purchase.
About The Designer (Laura Ashley)
This British designer is known for her traditional, Victorian-style prints on natural fabrics, which she used to create household furnishings, linens and women's clothing.
By the time of her death, there were more than 220 Laura Ashley shops worldwide.
She served in the royal naval services in World War II, married Bernard Ashley in 1949, and in 1953 began her design business in her Pimlico home.
Laura used silk screens to create placemats and scarves. She eventually designed dresses, curtains, decorative accessories, wallpaper and tiles.
The Ashleys moved to Surrey and then, in the late 1950s to Carno, Wales, site of what became the world headquarters of their expanding business.
Bernard handled the engineering and financial aspects, and Laura created the designs.
From wholesaling, the couple moved into retailing in 1967, with the opening of their first shop in Kensington.
This led to numerous outlets overseas, including shops in Canada and Australia.
Then later in continental Europe and the United States.
As her business expanded, she became a tax exile, living in Brussels and France.
Now, in 2023, the business is coming back again with curtain poles, tiebacks and trimmings.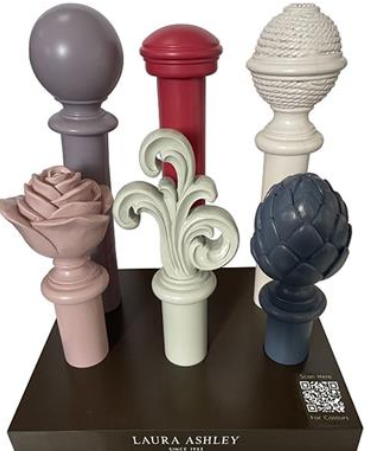 Click here to view the collection