Little Greene Paint Company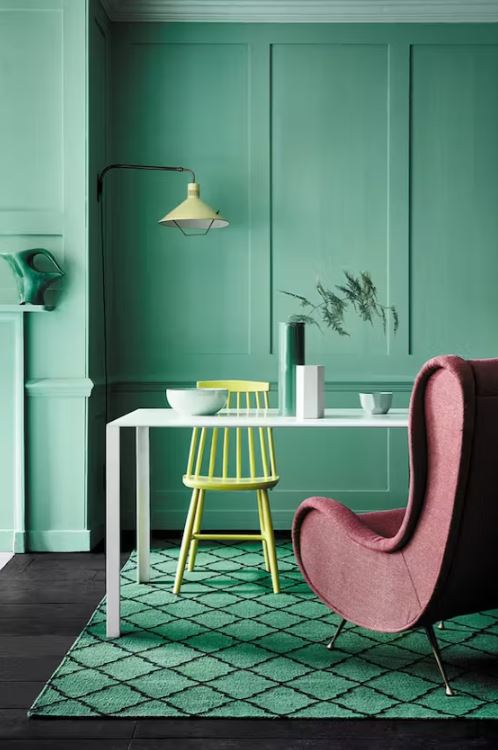 Little Greene Paint Company is an independent, British paint manufacturer, committed to the socially and environmentally responsible production of high quality paints and wallpapers.
With records dating back to the year 1773, the Little Greene Dye Works of Collyhurst Wood, on the outskirts of Manchester is one of England's most ancient industrial sites for the making of paints and dye solution.
Little Greene has reassuringly high pigment levels (over 40% more pigment than many ordinary paints), give their their paints an unequalled depth of colour and a true point of difference.
Finishes available:
Absolute Matt Emulsion
Intelligent Matt Emulsion
Intelligent Eggshell
Intelligent Exterior Eggshell
Interior Gloss
Masonry
Limewash
Distemper
Traditional Oil Eggshell
Toms Oil Eggshell
Traditional Oil Gloss
Floor Paint
Little Greene Paint Company has the Colours of England collection that is a range of 120+ classic and contemporary colours and includes true historic shades.
Colour Scales is a collection of 48 sophisticated neutrals in 12 families. Each family is made up of four shades with colours stepped in strength to achieve a more precise shade or a simple, harmonious colour combination when used together.
Since the beginning of 2018, Little Greene has been working in collaboration with the National Trust. As a result, an extensive paint research project has been undertaken in National Trust houses and gardens throughout England.
Little Greene has identified an unrivalled selection of 31 beautiful greens, each with a noteworthy origin.
How To Paint a Wall!
Step 1: Prepare your walls and work area.
Move all furniture and accessories to the centre of the room and cover with dust sheets.
Fill in all holes and cracks.
Once dry, sandpaper over the filler until the wall is smooth and even.
Loosen sockets, switches and door handles and cover with masking tape.
Mask windows and edges where the wall meets the woodwork. Use your finger or a scraper over the edge of the masking tape to prevent bleeding.
If painting over wallpaper, make sure all the edges are securely stuck down. Vacuum the room and use a damp cloth to remove dust from the walls.
Top Tip: For minimal disruption, try to finish the preparation stage the night before. You should then have time to apply two coats of paint and begin arranging your room the following day.
Step 2: Cutting in: How to paint with a brush.
This step demands a slow and concentrated hand, so take your time.
Dip the brush into the paint. Begin at the top of the wall where it meets the ceiling and paint a frame (about 5cm wide) around all edges of the wall, from top to bottom. Then do the same in the corners of the room: the edges of the skirting board and around windows, doors, light fixtures, sockets and switch plates.
Step 3: Paint the wall with a roller.
Work from the ceiling down and aim to roller the one metre square in front of you before moving into the next square section.
Your painting technique should combine a steady pressure with moving the roller up, down and across until you have covered each area evenly.
Top Tip: If paint begins to build up on the wall at the edges of the roller stroke, immediately roll over the lines in a gentle motion. Water-based paints start drying quickly, so don't go back over tacky paint as you will unsettle the surface.
Step 4: Protect your painting tools when you take a break.
If you're in need of a tea break or you're waiting for your first coat to dry, keep your roller from drying out by wrapping it in cling film or tin foil.
Step 5: Apply a second coat of paint.
With most paint colours, and especially when you are using dark colours over a light-coloured wall, it is recommended that you use two full coats.
You should wait at least two hours before your second round of cutting in, although drying times are dependent on weather and humidity and the finish you're using.
Step 6: Preserving your roller and brushes.
If you have used water-based paint finishes, cleaning simply requires water and a little washing up liquid. Scrape the excess paint off.
Pat dry with paper towels. Try to store paint brushes hanging with the bristles down to increase their longevity.
Paint should be stored with the lid firmly on, out of extreme temperatures and away from children.
You can start putting your furniture back in place once the paint is dry. Make sure to leave a small gap between furniture and walls so that you don't get rub marks on the walls.
Click here to view the full Little Greene Paint Collection
Contact us on 01915849002 or sales@justpoles.com