How did it all begin ?
After World War II, Bernard Ashley met Welsh secretary Laura Mountney at a youth club in Wallington, London. While working as a secretary and raising her first two children, part-time she designed napkins, table mats, and tea-towels. Bernard working alongside Laura, printed on a machine he had designed in an attic flat in Pimlico, London.
The couple had invested £10 in wood for the screen frame, dyes and a few yards of linen. Laura's inspiration to start producing a printed fabric came from a Women's Institute display. Traditional handicrafts at the Victoria & Albert Museum. When Laura looked for small patches carrying Victorian designs to help her make patchworks, she found no such thing existed. Here was an opportunity, and she started to print Victorian style headscarves in 1953.
Growing the laura Ashley Brand
Needing to expand, the company moved to Kent in 1955. But everything was not plane sailing,the business was nearly wiped out in 1958. The business was near a river, River Darent overflowed – leaving equipment, dyes, and fabrics floating in three feet of water.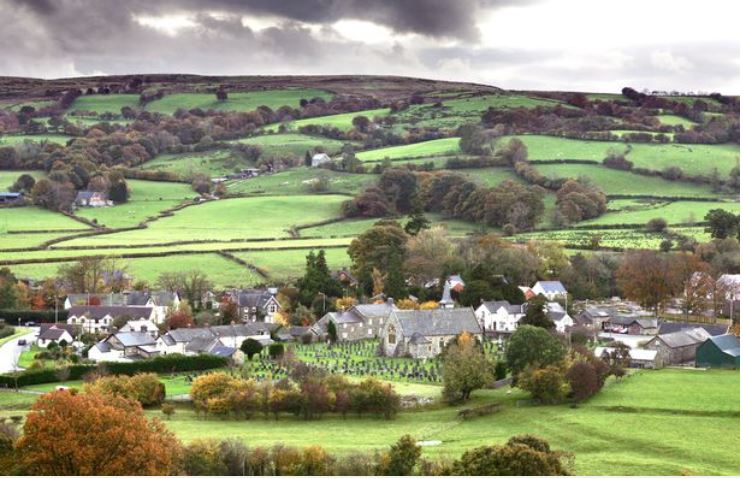 Turnover rose from £2,000 to £8,000 in 1960, which left them looking for new premises. As the new M4 Motorway had just been built, Laura suggested Wales as there was much space. Driving up the new road one weekend, Laura found a suitable house and shop available in Machynlleth, Powys.
The Ashleys' first Welsh factory was originally located in the social club in Carno.
These were crucial times in the development of the company. Bernard had developed his flat-bed printing process to produce 5,000 metres of fabric per week.
In 1966 Laura produced her first dress for social rather than work attire. The long length silhouette became the Laura Ashley trademark. It also was to work successfully in the company's favour, as fashion switched from the mini to the maxi skirt at the end of the 1960s.
A newspaper suggested that by donning a Laura Ashley number, women could look as beautiful as Katharine Ross in the film Butch Cassidy and the Sundance Kid.
Laura Ashley-Becoming a Retail success
The first shop under the Laura Ashley Brand name opened in Pelham Street, South Kensington, in 1968, with additional shops opened in Shrewsbury and Bath in 1970. In one week alone, London's Fulham Road shop sold 4,000 dresses. This resulted in the new factory in Newtown, Montgomeryshire. It was the opening of the Paris shop in 1974, which was the first to feature the distinctive green frontage and stripped wooden interior; and in the same year the first U.S. shop opened in San Francisco. A licensing operation led to the opening of department store concessions in Australia, Canada, and Japan from 1971 onwards.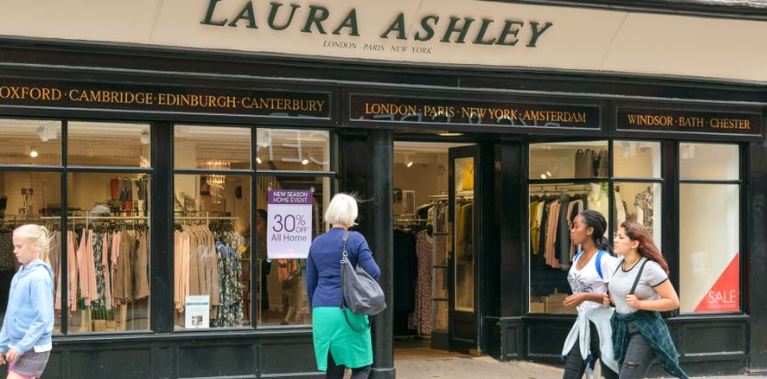 By 1975, turnover was £5 million per year and the company employed 1,000 people worldwide. The addition of a home in France enabled Laura to go back to her roots. Looking at fabric design, and the company launched its home furnishings collections.
At the time of Laura Ashley's death in 1985, the company had over 220 stores. Employing over 4,000 people and turned over US$130 million annually.
Public Company- A new chapter
Two months after Laura Ashley's death in 1985, Laura Ashley Holdings plc went public in a flotation that was 34 times oversubscribed That same year, the first store in Japan was opened in Tokyo. Chairman Bernard Ashley accepted a knighthood in 1987, the same year in which the company opened a new factory, called Texplan, for printing fabrics and wallpapers, and launched new child and home furnishings ranges.
In the early 1990s, Laura Ashley plc was suffering from a combination of over expansion of its retail outlets. Dependence on what had become an overly complex and costly outsourced network of manufacturers. In 1991, American James Maxmin became the CEO at Laura Ashley,
Aiming to refocus the company on its core business.Over the next two and a half years, Maxmin led a series of changes, addressing problems in manufacturing and logistic.
Laura Ashley plc celebrated its 40th anniversary in 1993, the same year that Sir Bernard retired as chairman and became honorary life president.
In early April 1994 Maxmin abruptly resigned from Laura Ashley, a new source of finance was desperately needed. This was found in 1998 in a new relationship with the Malaysian MUI Group.
Laura Ashley becomes a victim of Covid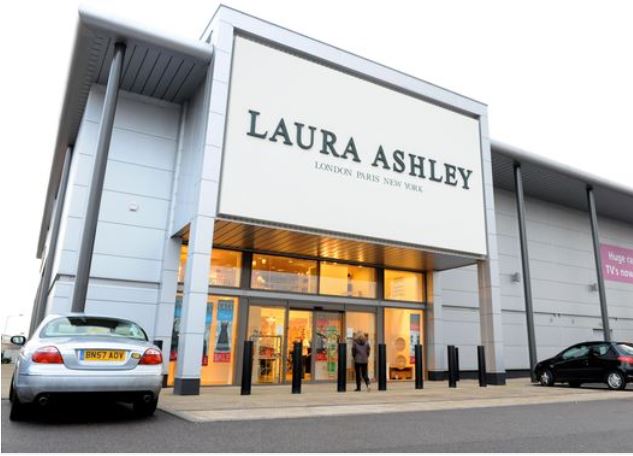 Blaming its troubles on a "significant" drop-off in trade, and no end of the coronavirus outbreak in sight, Laura Ashley became the first retail casualty of the worsening health crisis, placing 2,700 jobs at risk. Seeking a £15m loan main, shareholder MUI Asia Limited was not be able to step in with the money needed.
In a statement to its investors, the company said, "The Covid-19 outbreak has had an immediate and significant impact on trading, and ongoing developments indicate that this will be a sustained national situation.
With a relaunch, laura Ashley is now a Brand under the umbella of NEXT, ensuruing that a strong company is pushing the Laura Ashley name back to where it belongs.
The Brand has started with a few core products such as Curtain Poles,Tiebacks, Door Handles and Fabrics.
A core metal range of curtain poles, ranges called Vivien and Swirl, give a simple design with functuality.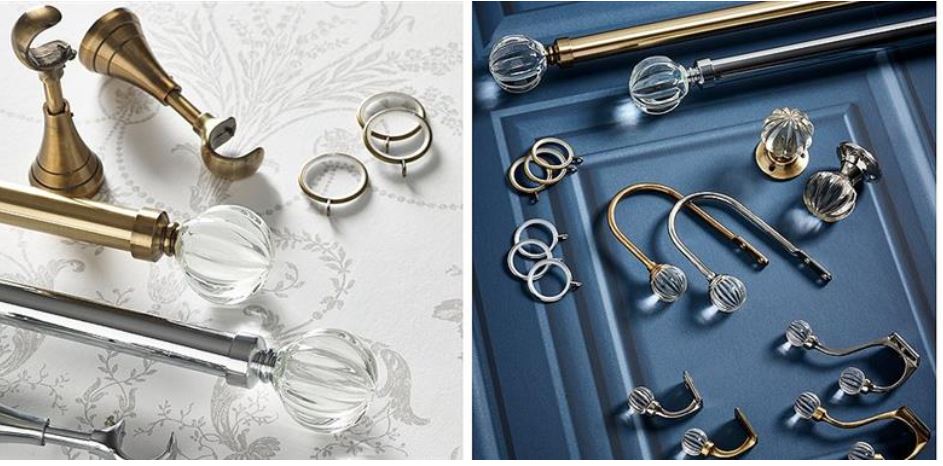 35mm diameter Wooden curtain poles are available in traditional woods, or more contemporary colours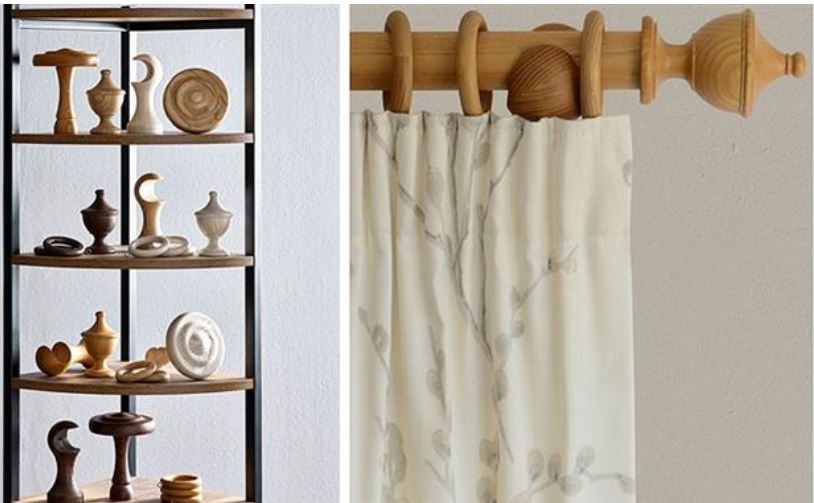 With so much more on the horizon,. we are l;ooking forward to building the brand, and show that the independant curtain shops can be the backbone of the relaunch.
Click Here to view the Laura Ashley Brand
To read more articles about Fabric, click Here