William Morris Designs by C&C
William Morris Designs by Clarke & Clarke wallpapers and fabrics.
As well as being a poet, environmentalist and socialist, William Morris (1834-1896) was one of the most prolific designers of any age.
As a hero of the Arts & Crafts movement, he authored enduringly popular designs that drew their inspiration directly from nature.
In this collection, Clarke & Clarke celebrates his legacy with a hand-picked selection of his most adored designs. Unique florals combine with remarkable compositions in a range with over 160 years of heritage.
You can create your very own Arts & Crafts haven with the William Morris Designs collection.
There are 5 designs available:
Acanthus features dramatic swirling acanthus leaves, this dynamic pattern is one of Morris's best loved creations.
Golden Lily offers a timeless appeal, it features entwined lily stems amid a bed of other bright flower heads. It is impactful and dramatic.
Mallow follows the winding, whimsical charm of the hibiscus flower, this classic design adds floral splendour to any part of the home.
Strawberry Thief is William Morris's most iconic pattern, it tells the story of a cheeky, fruit-thieving bird. It is intricate and highly ornamental, this cherished design is a riot of colour and expressive detail.
Willow Boughs is inspired by nature, it is deceptively simple and features delicately entwining stems and curling leaves.
About William Morris
William Morris was the son of a wealthy broker, who grew up exploring the large gardens at his family home, Woodford Hall in Essex, and the nearby woods on the edge of Epping Forest.
From a young age he enjoyed reading. Among his favourite books was a copy of Gerard's Herball, also known as Generall Historie of Plantes, which was first published in 1597. It remained a much-loved reference book throughout his life.
William Morris went to the University of Oxford in preparation for joining the clergy. It was here that he met his life-long friend and creative partner, Edward Burne-Jones.
Morris and Burne-Jones decided to pursue a creative life. They left for London, where they met the pre-Raphaelite painter, Dante Gabriel Rossetti.
William Morris's frustration at being unable to find furnishings to his taste led him to create his own.
Morris, Marshall, Faulkner & Co was the decorative arts company by Morris and his friends in 1861.
Morris took a new approach in the way he used natural forms in his designs. He believed that patterns should have 'beauty, imagination and order' and used these principles across his work.
William Morris decided to take sole charge of the company in 1875 and renamed it Morris & Co, this enabled him to carefully control design and production standards.
Morris & Co wallpapers and textiles used hand-cut and printed woodblocks.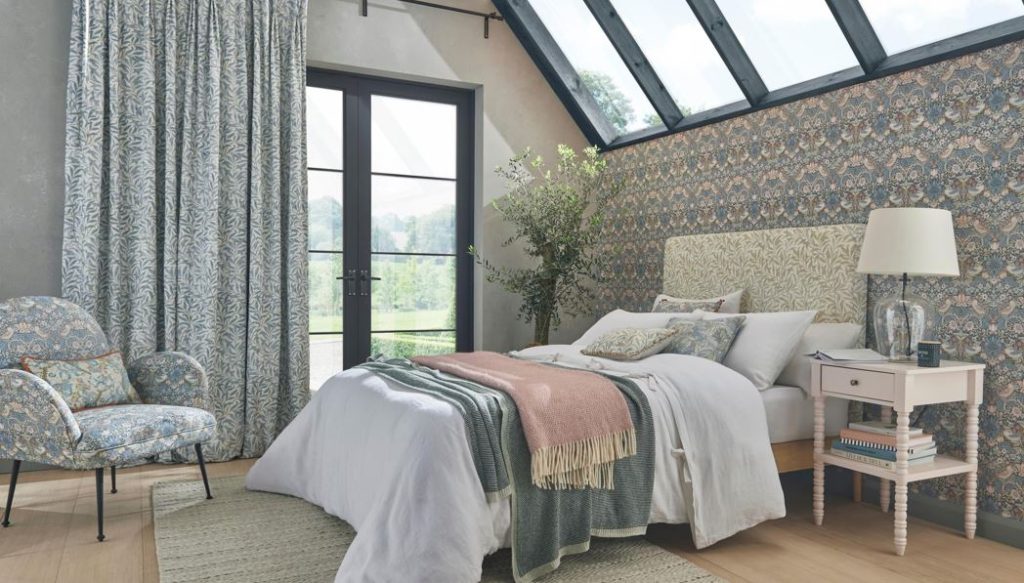 View the fabrics.
View the wallpapers.
You can contact us on sales@justpoles.com for any information on these wallpapers and fabrics.