Cameron Fuller Portiere Rods, HELP keep out the COLD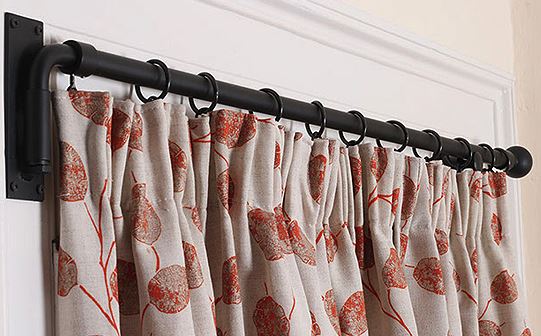 Portiere Rods
Cameron Fuller have released a collection of Portiere Rods in a range of different colours.
Portiere Rods are available in a 19mm diameter and are available in a length of 1.2m, however you can cut these down to size.
Portiere Rods are useful for curtains over doors and also in dormer windows where there is no space to draw the curtain back to.
The hinge/bracket attaches to the door frame or return wall.
This Portiere Rod rests on a support on the door that allows the door to open and close without moving the curtain.
However, a second pole support is mounted on the return wall.
These can be lifted up and swung off the door and placed on a support at times when the curtain is not required across the door.
-Sold in singles.
-Available in eight colours.
-Portiere rod is 1.2m long and can easily be cut down to exact size required.
-Supplied complete with all fittings including rings and a finial of your choice.
You would receive the following:
A single Hinge/Bracket: 40mm wide x 130mm height
1 x Small rest bracket: 40mm high
1 x 19mm 1.2m pole
2 x Sliding brackets
1 x finial
2 x locking collars
12 x rings
You have a choice of the following finials:
Ball: 40mm
Cage: 90mm
Collar: 30mm
Stopper: 3mm
Curl: 90mm
Basket: 70mm
Wood Ball: 40mm
Barrel: 60mm
Spear: 130mm
You also have a choice of the following colours.
Firstly, Black
Secondly, White
Thirdly, Chalk
Fourthly, Almond
Next, Chrome
Also, Pewter
As well as, Bronze
Finally, Graphite
Portiere Rods would suit any room and look great up. These are very popular with our customers and we do recommend these products to lots of people.
The most popular colour at the moment is Black.
You can put curtains with a pencil pleat heading. If you want to add a bit more decoration you could do a double pleat or even a triple pleat.
You can see the range on Just Poles and Just Sew Interiors.